This year, the Seed Ambassadors Project was invited to the Transylvania (Northwest) region of Romania by the Ratiu Family Foundation as part of the Ratiu Center for Democracy's Agricultural program, Turda Fest. Turda Fest's mission is to honor "the history of the greater Turda region and promote options for a sustainable future…. [and to] provide educational opportunities in agriculture for ecologically sound and financially viable development." Turda Fest's main component has been an agricultural festival in the fall, but is expanding to include educational and organizational activities throughout the year.
Our Turda Fest program, from February 1-9 was organized by Turda Fest's brilliant Program Coordinator Marta Pozsonyi and Peace Corps Volunteer extraordinaire Kate Lucas. The program included village workshops with farmers and meetings with other people involved in agriculture in the area, such as the local Agriculture Minister and ag-oriented NGOs. We also ate some incredible slow food meals, visited the local seed grow-out center, toured the local salt mines and went on a hike, and held a press event.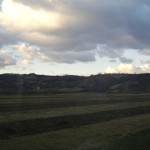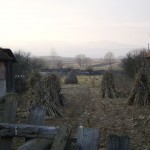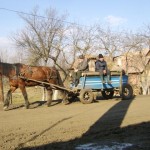 winter fields, corn stacks, horse and cart

At the village workshops, we spoke about organic farming in Oregon, diverse marketing tactics, and the importance of maintaining on-farm biodiversity through seed saving of traditional varieties. We shared what we knew about what people and organizations in other countries in Europe are doing to cope with the loss of heirloom and traditional varieties, with their various interpretations of seed saving organizations. We engaged the farmers in discussions about the problems they face and what they see as possible solutions.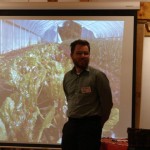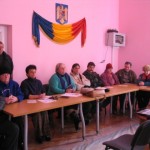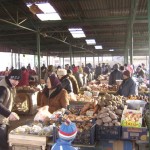 Presentations at the Democracy Center, and Mihai Viteasul, the Turda market

First thing in Turda, we were interviewed for a local paper as well as a local TV station. The newspaper journalist spoke with us for two or three minutes and took a few photos. When we suggested the photos might turn out better if we were outside, we all moved outside and she took one photo. On our way outside she asked me if I actually thought we would accomplish anything while we were there. I told her it was possible. Andrew piped in and said, "Of course!" I then asked her if she thought we would accomplish anything. She told me, "Definitely not. It is not possible. What the people need here is money, not information." Her newspaper article read like an editorial that expressed this point of view, and the photo she published with it was the one that was taken outside, in which my eyes were closed and Andrew wore a mid-sentence grimace. We had been prepared to face this attitude, but thankfully it wasn't as prominent as it might have been.
In fact, we accomplished quite a bit. In the workshops in the villages of Mihai Viteazul, Moldovenesti, Iara, and Viisoara we spoke with more than 80 growers. We talked to the people about the issues facing them as farmers, and brought their ideas to the Directia Agricula and the Centrul de Consultanta, who both said they would try to help the farmers improve their situations. We shared about 400 packets of seed that we brought with us, and collected about 50 varieties of seed while we were there. Many of these varieties were true heirlooms, given to us by farmers that had been growing them for many generations. When we asked the name of a certain bean, the answer was usually, "There is no name; it is just a bean." Because the seed sharing was not part of our official Turda Fest program, none of the villagers had brought seeds with them to share with us. But in each village someone ran home to get some seeds and brought them back to us, or came to our next event and brought us seeds. Two families even invited us into their homes to share seeds, drinks, and food.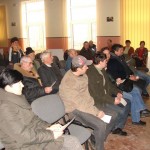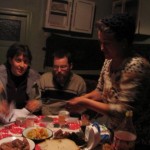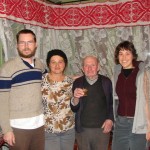 Presentation in Moldovenesti, food & drink at Maria Nagy's
The people we spoke with agreed that it is important to maintain the traditional agriculture and with it the traditional varieties. At the same time, the pressure to abandon the old varieties has been present for quite some time, and many of them have already been lost. Economics and government policies favor the importation of seed from multinational corporations. One farmer in the village of Mihai Viteazul told us that they are so poor that they must sell everything they produce, and so they must buy new seeds every year because they can't afford to save their own seeds. This is similar to some attitudes in the US, where many farmers think it is uneconomical to save seed.
Another farmer told us that the government gives them a credit for the seeds that they purchase, which they do not receive if they do not plant "certified" seeds. Of course, farm saved varieties are not certifiable. Many of the farmers agreed that the traditional varieties were valuable because they were better adapted to the conditions and some had higher yields in addition to better flavor, but they are feeling increasing pressure to purchase seed from outside sources. In the village of Moldovenesti, the group indicated they "don't want the Dutch tomato; we want the old Romanian tomato." But at the same time complained, "We don't know who has that one. We only have the Dutch one." They then talked amongst themselves to see if anyone could think of a neighbor that was still saving the old tomato seed, but none could.
But there are still some growers that save all of their own seeds, such as Maria Nagy and her husband Pawel, who really didn't know what all of the fuss was about. "It is a tradition in the (Hungarian) villages to save seed. I am not doing something extraordinary, just what I've always done." Maria gave us seed for two tomatoes, the legendary Turda red onion and a yellow onion, a dent corn, a popcorn, a wheat and a barley, a carrot, a celeriac, some hot paprika peppers, and several beans. Each of these seeds she had in abundance.
In the village of Iara, the Nemes family treated us to a SlowFood lunch, demonstrated traditional weaving, and wore traditional Romanian dress. They shared many types of beans with us, gave us tours of their land, and showed us a level of hospitality that has become quite rare. The next day they attended our press conference and SlowFood dinner, and joked with us that they had gone to look in their storage area for some more beans to eat and plant, but could not find them. So they knew, first hand, what it was like to lose the old varieties because they had lost them just the previous day! We laughed and offered to give them back the beans they had given us, but they assured us that they would find them later, and were not worried that they were gone forever.
We left Turda Fest with a portion of each of the seed varieties that we had collected from the villages, in the hopes that they would find a way to facilitate the organization of a Seed Saver's organization there, or plant them in the Foundation's gardens, or submit them to a gene bank that is under construction at the nearby agricultural university in Cluj. We also engaged many stakeholders in conversations relating to the importance of saving seed and improving conditions for local agriculture, and connected them to each other. Turda Fest now has many ideas for future projects and programs, and has developed connections in the community to realize some of these ideas.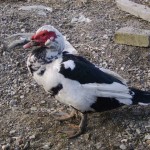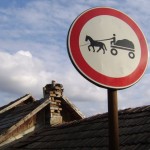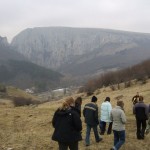 Muscovy duck, horse and cart crossing, Turda gorge
Indrei Ratiu, the Director of the Democracy Center, has a policy to always invite the press back, especially if they write something negative, because obviously they did not understand completely. So the reporter from that first day accompanied us on a village visit and also came to the closing event, which was a press conference. The article she wrote at the end showed quite a different attitude: apparently she thought we had accomplished something in our time there after all. Several other periodicals picked up the story, and positive reports of the successful Turda Fest Seed Ambassador's program made it to a national paper!
Our time in Romania exceeded not only the expectations of a certain member of the press, but our own as well. We learned a lot and collected some interesting seeds, and connected with some incredible people.