From Gerhard and Susanne's we traveled by train south to Sativa Rheinau, a biodynamic seed company in Switzerland near the border town of Schaffhausen, home to the largest waterfall in Europe. Set in a seventeenth century monastery on an island in the Rheine, Sativa is blessed with being one of the most beautiful places we have happened across in our travels. The seed company at Sativa is part of a larger Biodynamic farm project that integrates 25 handicapped people into the work with animals (dairy and meat), fruits, vineyard, grains, and seed growing and processing tasks.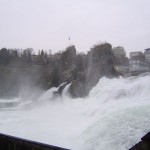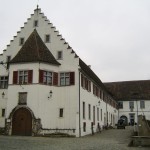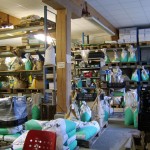 falls on the Rhine, Sativa HQ, seed room

Sativa's main vegetable seed customers are home gardeners, and they work closely with Pro Specie Rara (PSR) to distribute heirloom Swiss varieties. (More about PSR, the Swiss seed savers group, in a later posting). Sativa's main work with farmers is in their work with seed potatoes and grains, and they sell large quantities of rye, spelt, and wheat to farmers there. Because Switzerland is not part of the EU, they do not have the restrictions of most other countries in regards to the Common Catalog. But this does not mean that they do not have to deal with limitations; as is the case in the US, high quality open-pollinated varieties for market gardeners are either nonexistent or are hard to come by.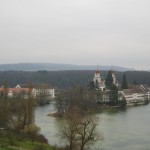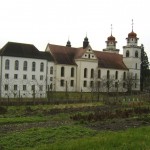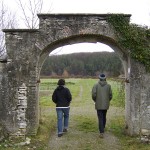 Rhine, monastery, garden, gate
One reason for this lack of high quality open-polinated varieties of vegetable and grains worldwide is the lack of breeder compensation. With open-pollinated varieties, there is nothing to stop farmers from saving their own seed, in fact this is often encouraged. Unfortunately, when farmers and gardeners save their own seed the breeder is no longer supported by sales of the varieties, and the only reward for years of work is the variety itself. If a breeder has developed a variety for introduction to the Common Catalogue, the 15,000 or more Euro it costs for variety registration to the list is rarely repaid, and so essentially the breeder is also "rewarded" with the large debt incurred for registration.
Sativa has developed a scheme to address this, and folks in Switzerland can now purchase Sativa labeled bread, where a small portion of the proceeds goes directly to the breeder as well as the grower of the variety. The world could use some more creative approaches such as this for breeder compensation, to ensure the continued development of new open-pollinated varieties.
Sativa is also working to develop a scheme for licensing the new varieties they are developing, so the breeders are reimbursed for their efforts even if farmers do not buy seed from the company after the first generation. They reason that when people buy seeds from a seed company a small portion of the cost of the seeds is effectively a licensing fee already. If farmers continued to pay a small amount, even if saving their own seeds, it could ensure the further development of new open-pollinated varieties.
Despite the current lack of schemes to reimburse a breeder or a seed company for the work in developing open-pollinated varieties, Friedemann Ebner, the main vegetable breeder at Sativa, Peter Kuntze, the grain breeder, and Amadeus Zschunke, the founder of the company, are all working to develop new varieties, as well as maintain old ones.
More about this work to follow.