Over 35 people turned out for the 6th annual Winter Cropping Workshop at Food for Lane County's (FFLC) Youth Farm in Springfield.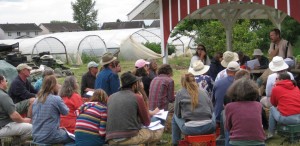 Workshop presenters Ted Purdy, FFLC farmer; Andrew Still of the Seed Ambassadors Project; and Nick Routledge provided a wealth of information about the right conditions for growing good tasting and fresh vegetables—roots and greens—all winter long.  The three fielded questions from the audience about growing regionally appropriate varieties that provide enough calories for gardeners to feed themselves on a 100 mile diet even throughout the April/May hunger gap.
After the workshop a lively seed swap provided excellent varieties for getting a winter garden started.