This year, the Seed Ambassadors Project was invited to the Transylvania (Northwest) region of Romania by the Ratiu Family Foundation as part of the Ratiu Center for Democracy's Agricultural program, Turda Fest. Turda Fest's mission is to honor "the history of the greater Turda region and promote options for a sustainable future…. [and to] provide educational opportunities in agriculture for ecologically sound and financially viable development." Turda Fest's main component has been an agricultural festival in the fall, but is expanding to include educational and organizational activities throughout the year.
Our Turda Fest program, from February 1-9 was organized by Turda Fest's brilliant Program Coordinator Marta Pozsonyi and Peace Corps Volunteer extraordinaire Kate Lucas. The program included village workshops with farmers and meetings with other people involved in agriculture in the area, such as the local Agriculture Minister and ag-oriented NGOs. We also ate some incredible slow food meals, visited the local seed grow-out center, toured the local salt mines and went on a hike, and held a press event.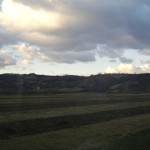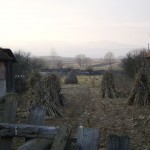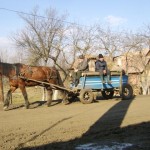 winter fields, corn stacks, horse and cart

At the village workshops, we spoke about organic farming in Oregon, diverse marketing tactics, and the importance of maintaining on-farm biodiversity through seed saving of traditional varieties. We shared what we knew about what people and organizations in other countries in Europe are doing to cope with the loss of heirloom and traditional varieties, with their various interpretations of seed saving organizations. We engaged the farmers in discussions about the problems they face and what they see as possible solutions.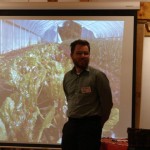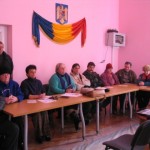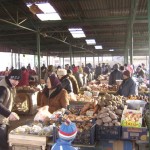 Presentations at the Democracy Center, and Mihai Viteasul, the Turda market

First thing in Turda, we were interviewed for a local paper as well as a local TV station. The newspaper journalist spoke with us for two or three minutes and took a few photos. When we suggested the photos might turn out better if we were outside, we all moved outside and she took one photo. On our way outside she asked me if I actually thought we would accomplish anything while we were there. I told her it was possible. Andrew piped in and said, "Of course!" I then asked her if she thought we would accomplish anything. She told me, "Definitely not. It is not possible. What the people need here is money, not information." Her newspaper article read like an editorial that expressed this point of view, and the photo she published with it was the one that was taken outside, in which my eyes were closed and Andrew wore a mid-sentence grimace. We had been prepared to face this attitude, but thankfully it wasn't as prominent as it might have been.