After another pre-dawn start, we left the company of the kind folks at Bingenheimer and headed south towards Nuremberg and beyond. Our next stop: Gerhard Bohl's home and gardens in the hamlet of Rednitzenbach. Gerhard and his wife Susanne are the brains, braun, and brilliance behind Das Sortenbuch (= the variety handbook), a mail-order catalog collection of more than 2,000 tomatoes, 380 peppers, 700 beans, and hundreds of other rare and unusual vegetables (written in German).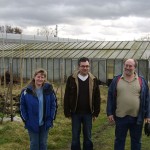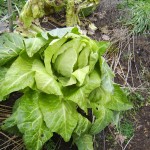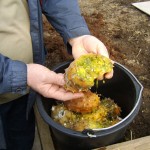 The crew: Susanne, Peter and Gerhard; Filderkraut – the ultimate Sauerkraut cabbage; Jelly melon slightly useful cucurbit.

Gerhard trades straight across with gardeners and fellow "collectioners" to the tune of some 20,000 seed packs per year. He distributes another 30,000 seed packs per year through other venues, mostly through his mail-order catalog with gardeners in other parts of Germany. Gardeners must write him by post and send five Euro for a copy of the Sortenbuch. If they decide that they want something from the buch, (how can they not?), they write again and send one Euro for every seed pack that they order, or if they are seed savers they can send in seeds from something they have grown in lieu of the cash. To encourage his customers to participate in the exchange and the stewardship of varieties, the Sortenbuch has several pages in the beginning that instruct people how to save seeds. This information is an important part of Gerhard's work, as German-language editions of seed saving books are not common.