Rye Ramble (from the 2015 Adaptive Seeds Catalog)
The Control of Seed and Seed Sovereignty
At Adaptive Seeds, we talk about our work of Bringing Biodiversity Back. Part of that, of course, is growing and stewarding seed and providing you with good seed stock for your own seed saving efforts. But seed work isn't only done in the field, and preserving seed sovereignty and freedom takes more than just saving seeds. Working to keep seeds free of control mechanisms, such as patenting, is another important aspect of promoting and preserving agricultural biodiversity, as is building awareness about what seed control mechanisms exist.
We often feel like outliers in the seed world because we wish to keep seed a free, sovereign community asset that is passed down between the generations and between friends. A growing number of people share this pro-sovereignty perspective and we are excited to be part of this community. The more I think about all the different forms of seed control schemes, the more I realize that it is very strange to try to empower seed freedom. It seems like the multinational seed industry is desperately trying to put our collective inheritance into proprietary bondage for the benefit of their shareholders as quickly as possible.
You might think, "Your seeds are not free, they cost money." So what is meant by free? Like open source software we believe seeds should be, Free as in speech, not as in beer. In a metaphorical sense I see all seed as free and what we get paid for is not the seed per say but the service of stewardship and production of a precious gift. A seed is a living organism that has intrinsic value and a long history, of which we seed stewards have only contributed a small, very recent part. We can't own that.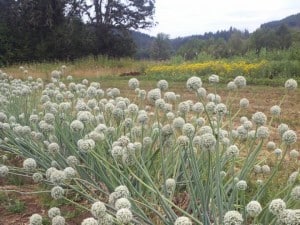 The concept of seed ownership is problematic in part because it is rooted in entitlement philosophy. As humans we all have a little bit of this philosophy always under the surface. It is a trait that helps us survive in competitive situations of scarcity, but I think it is inappropriate in situations of abundance. As an overt practice it is more common in institutions and businesses (especially in regards to Intellectual Property rights), than in our personal behavior.