Pro Specie Rara (PSR) is Switzerland's seed savers exchange. Unlike the American Seed Savers Exchange, PSR focuses solely on Swiss heirloom varieties: in order for a seed to be accepted into the PSR collection, it should have been grown in Switzerland for at least thirty years. For this reason, there are PSR listed Swiss heirloom Chioggia beets and many types of "French beans." Traditional Swiss agriculture (and gardening) was heavily influenced by its neighboring countries (Germany, Austria, Italy, and France), as was the language, so the Pro Specie Rara inventory is quite varied. In addition to the vegetable varieties, PSR also promotes the stewardship of traditional animals and fruits. To date, 25 breeds of rare animals and dozens of fruits are promoted through the organization.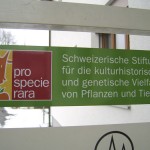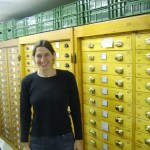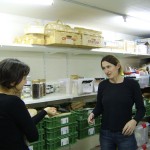 Right to left: PSR; Marianna Serena Seeds project leader; The Seed Vault

Pro Specie Rara is 25 years old in 2007, and at the peak of their acquisitions they obtained hundreds of heirloom varieties each year — seven or eight years ago they acquired 100 – 200 new sorts per year. The past few years, though, fewer and fewer varieties have been submitted, and in 2006 they only received 20 new accessions. Marianna Serena, who manages the seed collection, said she feels good about the quantity of seeds they have, adding that the organization is about at the limit of what they can care for. Pro Specie Rara doesn't have its own gardens like some other Seed Savers organizations — they are more of a networking and marketing hub for old varieties.