Rye Ramble (from the 2015 Adaptive Seeds Catalog)
The Control of Seed and Seed Sovereignty
At Adaptive Seeds, we talk about our work of Bringing Biodiversity Back. Part of that, of course, is growing and stewarding seed and providing you with good seed stock for your own seed saving efforts. But seed work isn't only done in the field, and preserving seed sovereignty and freedom takes more than just saving seeds. Working to keep seeds free of control mechanisms, such as patenting, is another important aspect of promoting and preserving agricultural biodiversity, as is building awareness about what seed control mechanisms exist.
We often feel like outliers in the seed world because we wish to keep seed a free, sovereign community asset that is passed down between the generations and between friends. A growing number of people share this pro-sovereignty perspective and we are excited to be part of this community. The more I think about all the different forms of seed control schemes, the more I realize that it is very strange to try to empower seed freedom. It seems like the multinational seed industry is desperately trying to put our collective inheritance into proprietary bondage for the benefit of their shareholders as quickly as possible.
You might think, "Your seeds are not free, they cost money." So what is meant by free? Like open source software we believe seeds should be, Free as in speech, not as in beer. In a metaphorical sense I see all seed as free and what we get paid for is not the seed per say but the service of stewardship and production of a precious gift. A seed is a living organism that has intrinsic value and a long history, of which we seed stewards have only contributed a small, very recent part. We can't own that.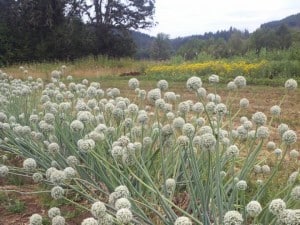 The concept of seed ownership is problematic in part because it is rooted in entitlement philosophy. As humans we all have a little bit of this philosophy always under the surface. It is a trait that helps us survive in competitive situations of scarcity, but I think it is inappropriate in situations of abundance. As an overt practice it is more common in institutions and businesses (especially in regards to Intellectual Property rights), than in our personal behavior.
An Entitlement Philosophy in regards to seeds might sound like this: "I worked really hard to grow, cross, select, trial this seed and then sit around thinking. Therefore I deserve to extort payment from anyone who wants to save this seed and start from where I left off. Never mind that I didn't start from scratch. I only added a very small part to a massive historical phenomenon. Now you must pay me to do the same because I deserve it."
Common mechanisms for seed control
HYBRIDS
Yes, hybrids are a great way to breed good, uniform varieties quickly. But most of the value to the seed company is that you have to continually buy it from them because they have a monopoly. This monopoly is mostly what we are paying for and we are certainly paying through the nose.
CELL FUSION MALE STERILITY
These pollen sterile varieties are usually hybrids and they provide an additional level of control. Seed from these varieties cannot usually be saved and the traits from the sterile parent are "locked up" and only available to the company that produced the parents of the cross. I see cell fusion hybrids as being rather diabolical and a kind of Terminator Seed. See 2014s Rye Ramble Cell Fusion Hybrid Seed is Creepy.
PLANT VARIETY PROTECTION (PVP)
PVP is the kinder, gentler seed control mechanism, making it illegal to produce the seed for sale without permission for a 20 year period. This monopoly is nicer than a SWAT team because it allows seed saving for personal use and allows for making crosses in breeding projects. I understand why many seed companies and plant breeders approve of PVPs, but I see PVPs as the "Patriot Act of Plants" leading to the "Police State of Utility Patents."