After four months of traveling though nine countries in Europe, Andrew and I are back in Oregon for a season of farming at Hayhurst Valley Organic Farm and Nursery, one hour south of Eugene in the Coast Range. Here we hope to do grow-outs of many of the 700-plus varieties of food plants we collected on our travels. Seven hundred varieties is a bit much for the two of us to handle, and we are seeking out people in the greater Eugene area to participate in the Seed Ambassadors Project by growing one or several of our accessions to seed. Please contact us if you are interested!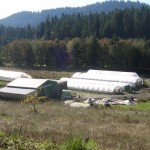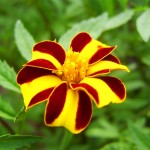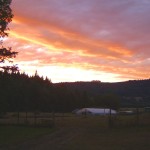 Greenhouses at Hayhurst Valley Organic Farm and Nursery, Danish Marigold, Sunset
Already we have sown several dozen varieites of tomatoes, peppers, eggplants, peas, and grains, and hope to get some lettuces, brassicas, and herbs in the ground shortly. We hope to post photos and reviews of our progress over the course of the season.
We couldn't have guessed when we began our work with the Seed Ambassadors Project that it would be met with so much support and enthusiasm — seven hundred varieties of seeds are the result of the generosity of dozens of people that participated in the Seed Ambassadors Project by gifting us seeds, as well as time and energy, lodgings and meals from November 2006 to March 2007. Over the course of our travels, hundreds more people attended talks we gave at seminars and seed swap events, and many more read about the Project in The Observer Magazine, one of England's most widely read Sunday papers and their Organic Allotment Blog.
Our sense when we began planning our journey was that there must be some people in Europe working to promote open-pollinated vegetables. What we found in each of the countries we visited was that this is indeed the case, and in each country the approach is as different as each country's history, language, and culture. What's more, momentum is building as more people are learning about this issue and re-learning the lost skills of seed saving — every person we spoke to that provides seed saving workshops told us more people want to attend than they can accomodate. This diversity stewarding biodiversity is uplifting and inspiring to us, and we hope it is to others as well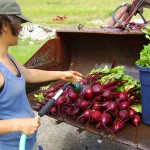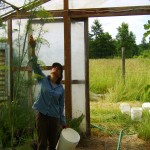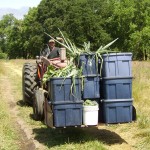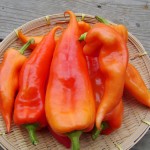 Sarah, Kate, Richard, Hungarian Peppers

We will continue to make posts to the blog about the amazing things people are doing with open-pollinated seeds in England, Wales, The Republic of Ireland, Denmark, and Belgium. Though these postings may not be up-to-the-minute as is usually the case with blogs, the blog format makes for easy posting so these articles will continue to be posted in this forum. Please keep checking back — there is a lot to write about and a lot of work to do, and it is important that people know what others are doing in regards to promoting and supporting food crop biodiversity.