'All Things Garlic' – Organic Guide to Growing Garlic

At Adaptive Seeds garlic is one of our favorite crops. It is garlic seed buying season, so we thought we would share this organic guide to growing garlic. We cover some basic (and not so basic) info about how to grow garlic organically and care for this kitchen staple.
First, it is good to know what different kinds of garlic are available. We offer two of the three main types of garlic at Adaptive Seeds.
Hardneck
So named because it produces a woody stem, this type of garlic is known for having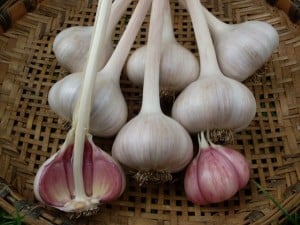 fewer (4 – 12) easier-to-peel cloves than softneck garlic. It generally has a more pungent flavor, which many garlic lovers prefer. Hardneck garlic tends to have fewer of the papery sheathes both around the clove and around the bulb. This wrapping protects the garlic from light and changes in humidity, so hardneck garlic does not store as long as softneck. Generally speaking, hardnecks store well for about 3 – 4 months. We offer two types of hardneck garlic – Porcelain & Glazed Purple Stripe.
Varieties include: Donostia Red, Shvelisi / Chesnook Red, Music, Purple Glazer, Romanian Red, Rosewood, Purple Italian Easy Peel, Zemo.
Softneck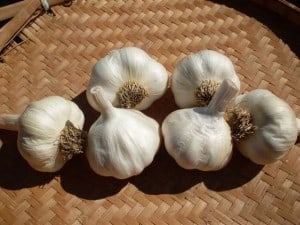 In contrast to hardneck garlic, this type of garlic has a pliable stem (neck). Softneck garlic stores better and can be more productive. We offer several varieties of Silverskin type softneck, which is the most common garlic for commercial growers and what you most likely find in the grocery store. Silverskins have excellent storage and pure white bulb wrappers. Silverskin garlic can have up to 40 well-wrapped cloves per bulb. We also have Artichoke types of softneck garlic. Artichokes have only about 12 – 20 cloves each, and both the cloves and bulbs tend to be significantly larger than Silverskin varieties. Artichoke garlics tend to mature up to 4 weeks earlier than Silverskin types. Both are great storage types and generally speaking can store up to 9 months.
Varieties include: St. Helens, Polish White, Broadleaf Czech, Harry's Italian Late, Nootka Rose, Oregon Blue Silverskin, Siskiyou Purple,
Elephant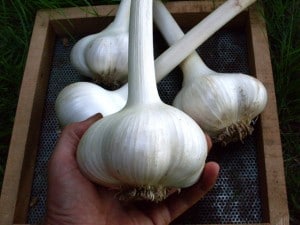 Elephant garlic is not technically garlic at all, though it looks, acts, and tastes similarly. It is a leek, and has a much milder flavor than true garlic. The bulbs usually form giant 3-6 cloves. This type will produce a scape, like hardneck garlic, and also stores about the same as hardnecks.