2013 Rye Ramble (reprinted from the Adaptive Seeds printed catalog.)
—-
Bringing Biodiversity Back for Real, Explained…
We don't simply write long variety descriptions because it is interesting and we don't choose rare varieties because they are simply novel.
I feel that seeds, with the biodiversity and cultural knowledge they embody, are a doorway into the mystical realms of our reality. That sounds a little funny and I am not trying to lose you into a woo-woo made-up universe here. I am just trying to explain some reasons for why we do what we do. And predictably every year we discover more reasons for doing this seedy thing.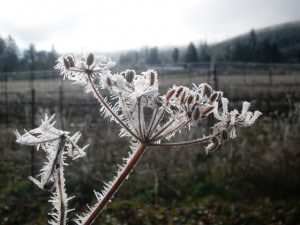 We write long descriptions and choose rare varieties for the sake of conservation, food security, the joy of the experience, and the encouragement from others to continue the hard work; these are all good reasons. But these reasons are like the layers of a leek stem. Every reason we give is a layer of the leek and we keep getting closer and closer to the core. One day we will get to the apical meristem and continue to peel and there will be an empty space where there was a growth point, mysteriously keeping its secrets from us. And yes, this is yet another reason we give ourselves to continue this journey, because we won't know every reason.
So why do we write these long descriptions when other seed companies write one sentence and sometimes even get the color wrong? What it comes down to for me is that cultural knowledge about seed varieties has eroded even faster than the seed varieties themselves.